FORMULATED BY
DR DAVID REINER
30 DAY SATISFACTION
GUARANTEE
A 2022 clinical trial showed Steady Freddy Delay Spray significantly increased penetration time and overall sexual satisfaction. 92% of spray users were satisfied with their sex life after 12 weeks.
Domestic returns will be accepted for a refund to the original payment method within 30 days of the order being shipped. Returns are subject to a $5 processing fee, which will be deducted from your refund. Please note that any outbound shipping costs paid are non-refundable.
Contact us to receive a return confirmation number.
International orders are not eligible for returns.
I've used a number of delay gels and sprays this product doesn't compare. Easy application and fast absorption which doesn't numb my partner. Highly recommend! Thank you for this wonderful product.
Paul S.
Awesome product, speedy delivery time, very satisfied!
David F.
Very effective delay spray. Will order it again.
Joseph
I will repurchase this delay spray. It really works.
Josh
Ordered yesterday and it arrived today. Are you in the neighborhood?
Silar
I used to come quick. Not anymore. I'm on team Steady Freddy now!!!
Bob
The spray works as expected. I'm surprised how little I need to get the result I want.
Bill C.
I can't believe it took me 40 years to discover this. I love it!
Neil
Thank you so much for your professionalism and for reshipping my order. I will keep doing business with you.
Victor D.
Product information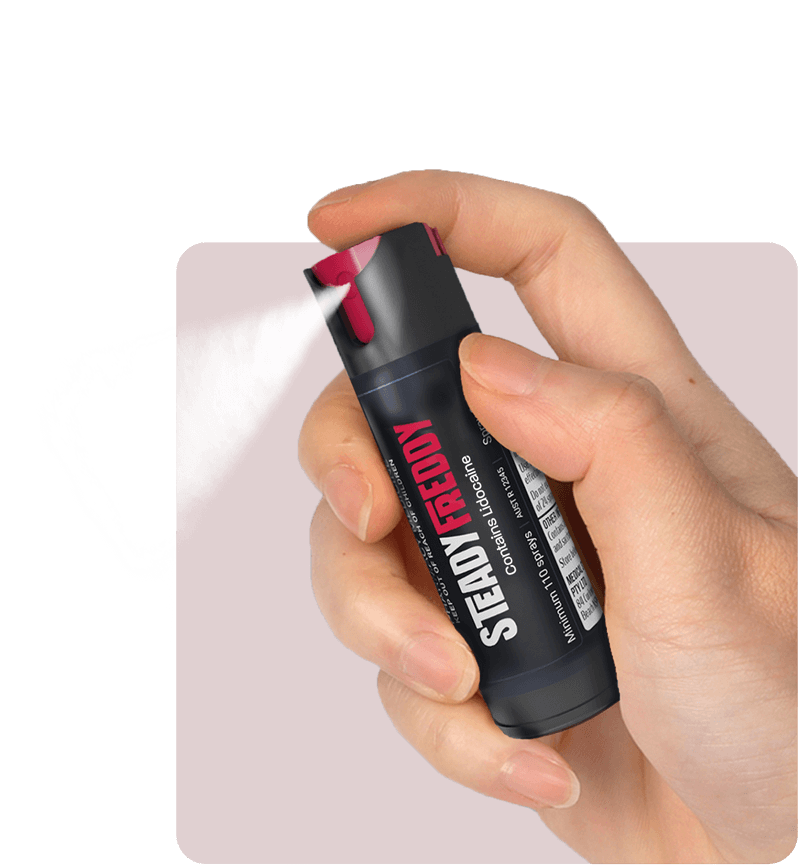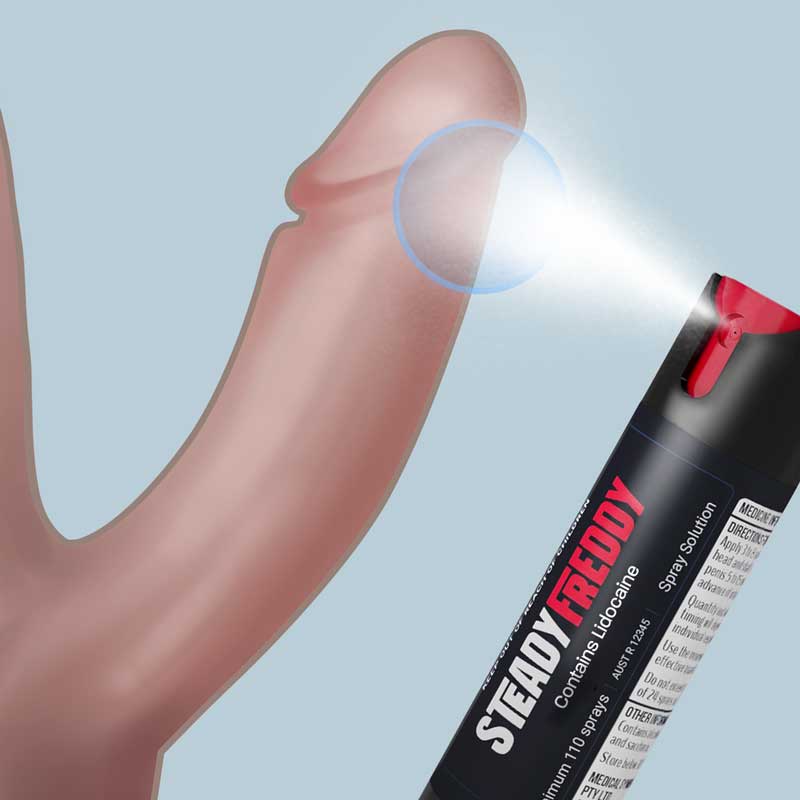 Direct application
The Steady Freddy spray is applied to the most sensitive areas of the penis, rather than the entire head and shaft, retaining pleasurable sensation. Learn more here.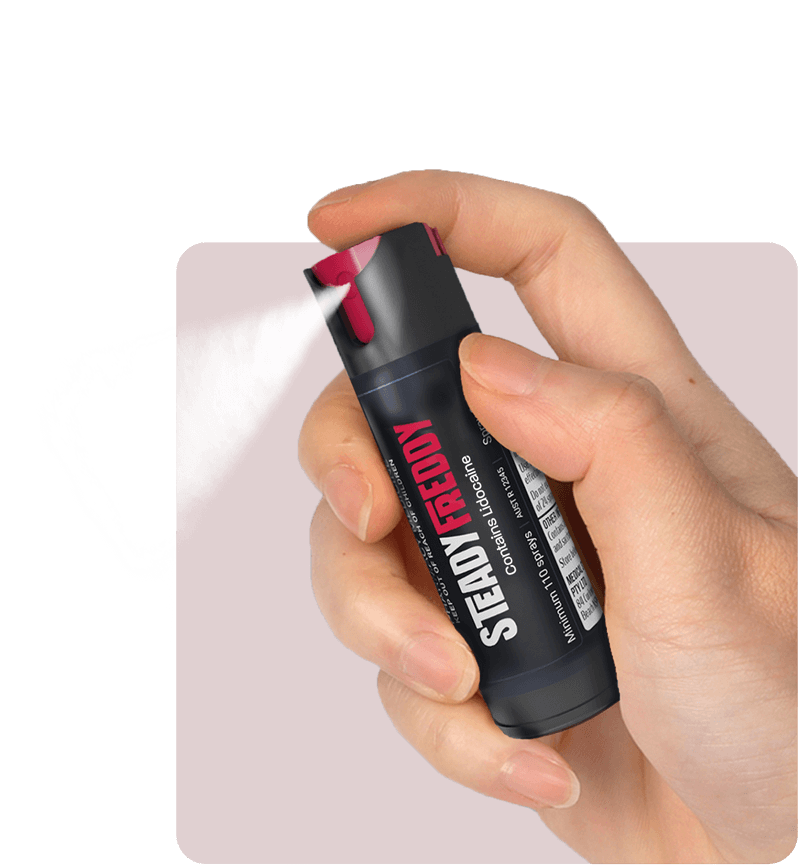 Proven formula
Using proven ingredients (lidocaine) with a comfort improved formulation, Steady Freddy delay spray is regulatory approved and medically backed by hundreds of healthcare professionals Australia-wide.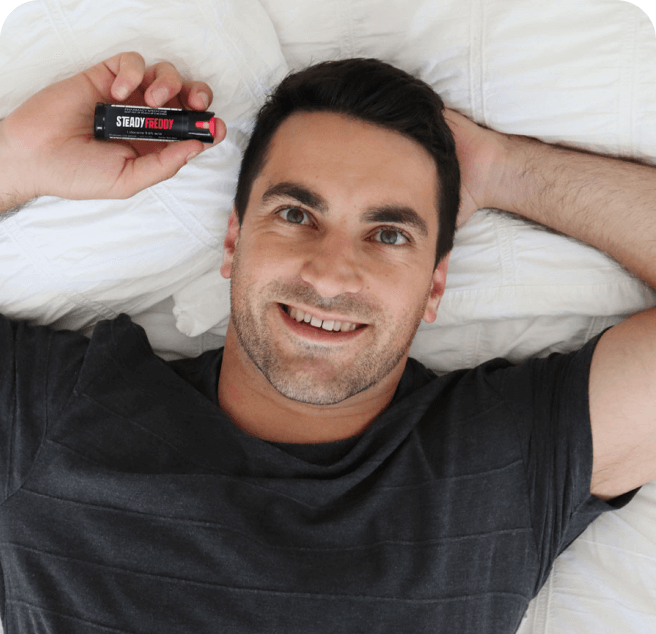 No partner transfer
Don't worry. When used as directed, Steady Freddy's revolutionary evaporative technology (EVAPO™) ensures that there is minimal to nil partner-transfer. Better for everyone.
Frequently asked questions
It is the most widely used local anaesthetic in the world largely because of it's safety profile. Lidocaine works by reducing sensitivity to the skin tissue.
When it's applied to your penis, lidocaine pulls back a little on your sensitivity levels during foreplay and penetrative sex. The idea is that you build sensation and arousal steadily during sex. That's exactly why we called it Steady Freddy.
The incorporation of evaporative technology is a medical game-changer. It ensures maximum effectiveness for the user and ensures minimal partner transfer when used in accordance with the instructions.
Every penis is different and our metered delivery system allows you to find your perfect dosage and levels of sensitivity.
Finding the perfect number of sprays may require some experimentation on your end.

We always recommend starting with 2-3 sprays and adjusting/working your way upwards (max 10 sprays).

Don't worry. When used as directed, Steady Freddy's revolutionary evaporative technology (EVAPO™) ensures that there is minimal to nil partner-transfer, maximising the pleasure opportunity of both participants.
For a premium experience, we suggest using our unique Ready Wipes. This completely prevents transference by comfortably removing any excess liquid, leaving you fresh and ready to go.